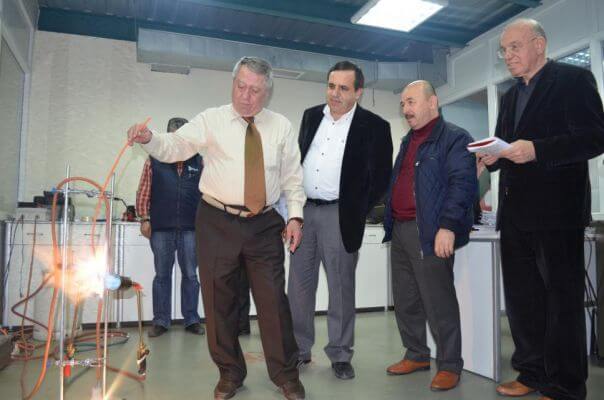 He is a DOYEN, who grew up at the times, when trade was done by moral values. He has measured his business with his love of humanity and has never neglected quality.
He is so keen on his principles that he can even say " Be best at what you are doing or else don't do it.." He is competent with each wire of the cable.
Nurşah SUNAY: Let's take a journey back to the time when the name Halil Başoğlu was started to be called as the "Doyen of Cables" namely to the years when Başoğlu Cable was established.
Halil BAŞOĞLU: My child; I cannot comment on how successful we are. If your business is praised and appreciated by the people around you, you are good. However it is clear that I am a doyen considering my age.
The official establishment of Başaoğlu Cable was in 1987 and the transmission to a Stock Company was in 1990. It is not right for me to take all the credit for our present success. I have a very good team, each of whom I am proud of.
I have never liked showing myself off. The turning point at the rise of Başaoğlu Cable was the time in 1995, when we came to Bolu and founded the factory.
So far we have finished 3 factories here; we have some land nearby and we plan to build a factory over there as well. My philosophy is "Either be the best or don't do that business".
I think the reason why they call me "doyen" is this. For us, the value we give to human is always a top priority. Whatever our product is, we should give the value they deserve to the humans and serve them with the best.
This country is ours and we all have to work really hard. What kind of cables does Başoğlu Cable produce?
We produce every cable except those, which were formerly called subterranean cables. Up to now, we have been focusing on our products regarding the white goods sector. We haven't expressed ourselves much in the other areas.
We are now changing this in 2012 with a new decision. We already have the quality certificates of all the countries. We don't have any troubles regarding this issue. We also have a project, which I cannot reveal right now, and we are going to complete it soon and start operation.
It is told that the profit margin is very low in the Cable sector. Therefore export is very significant for cable manufacturers.
What are the rates of your export and international sales balance?
Our export constitutes 37% of our general sales. When you do high quality production, it means you have a market all the time and everywhere. Yet, if you say "I can produce low quality goods and sell for once", you will have a short life. I am 68 years old. I grew up in Bankalar Street.
My experiences have taught me that; those, who make good products, survive. Those, who don't, either change company name or shut down. I don't think the firms can reach the positions, they desire as long as they produce low quality products. My only advice is: Nobody should neglect quality.
Can you give us some information about your new product, which you exhibited during Hannover Fair and which received much interest as far as I saw?
The product, you saw at Hannover Fair, was our fire cable. I won't be humble with this matter. There is no equivalent of this product or any other manufacturer of it in the world. People, who closely examine it, always ask: "What did you put in it?" I tell them: "I have added my Love". I am very confident about this product.
If anyone can do it with the same features, they can be my guests. I am ready for testing under any circumstances. As a matter of fact, this product is not new, we have been making it for 15 years.
I can proudly tell you that it is still used in many skyscrapers, hospitals and schools in Turkey. At this group of products the fire resistance duration is known as maximum 3 hours as standard. I don't give any duration.
Plus, this cable is repairable. The part, which undergoes fire, is baked again with the same paste on the copper. You can do this manually if you like. Once you bake it, you can sustain it on the same cable without throwing it away.
There is no other cable in the world with this feature. Moreover, we don't supply any part of it from a raw material supplier, it belong completely to us. Normal, silicone cables are flame retardant, after a while they start to conduct fire and to spill.
As far as I know, your R&D department is at your factory in Bolu, isn't it? Yes, it is here. We do something new every day. Lately, we have made Solar Cable. There are also other products, which we work on and plan to hopefully put them on the market by the end of 2012
The numbers indicate that today, there are roughly 600 big or small manufacturers. What do you think about there being this many cable manufacturers?
I think competition is a good thing. I wish there were 1600 of them. Then, I believe, there would emerge much better products and a race for higher quality. But of course, TSE shouldn't be inadequate about this. Currently, there is no supervision and unfortunately test labs are insufficient.
You want to have some tests done but it is not possible. We found a solution for this by testing our products at our own laboratory.
Does your lab also serve to other firms? If I were to test a cable of a friend, who works on the same area, I would that on condition that one of their people would be there with us during the test in order not to cause any misunderstandings. For this reason, currently, I do not provide service for other.
Where are the export spots, which you plan to reach in the next one year period? We have always targeted at the west so far. We have neglected the Caucasians, the Balkans and the Middle East. Up to today, we have focused more on being a sub industry of white goods sector than a cable manufacturer.
Almost all the world brands in the white goods sector are our clients. From the beginning of 2012 on, we plan to target at the Caucasians, Iran, the Balkans and the Middle East while preserving our existing relations in Europe. I would like to specially underline our export to China, though not in large numbers. This gives us a distinct pleasure. I believe these numbers will grow in time.
We know many firms, which have grown by their own efforts in long years. There are not many of them, who are also loved by their personality. How did you achieve this, I would love you to reveal this secret as well.
The core to this is Love, my child. If you consider a person as a human and love him or her, there will be no problems. Even if we work on the same matter, I do my best to help all of my friends. If you love, you are loved; If you respect, you are respected. I have no bad thoughts for anybody; I love everyone. My basic philosophy has been this.
I am good at loving. Everybody can make money, but if you manage to love, you can consider one another as people working in the same path rather than rivals, and therefore respect comes in the same way.